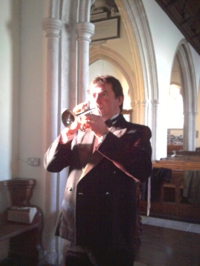 A Trumpet For Your Wedding!
The organ stops playing, the congregation turn. The church door opens, and there, in a beam of sunshine, stands the bride, looking radiant.
Then a glorious, triumphant, trumpet fills the church with sound, declaring the start of the wedding service.
From country house weddings in front of royalty, to village chapels with dove filled rafters, our organ / piano and trumpet player combo, or solo trumpet for a wedding service have made occasions across the country that extra bit special.
Your wedding trumpet and organ possibilities...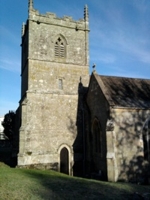 Funeral Trumpet Services
We can provide thoughtful and contemplative interludes to commemorate and celebrate a loved ones life. Carefully chosen organ and trumpet funeral service music can concentrate ones mind on the important issues. See our trumpet player for funerals page.
Having been classically trained at the Royal College of Music and now based in Dorset, Nick Briggs and www.trumpetwedding.co.uk can not only supply a trumpeter for a wedding or funeral, but can help arrange musicians for weddings, wedding music, organists and string quartets for hire for any special occasion.
We are experienced professional musicians who have worked in a wide range of musical genres from classical orchestras to many West End shows, and from Barry Manilow to Peter Kay. A professional quality keyboard providing both piano and organ can be supplied for venues without a fully functional keyboard instrument.
We now primarily provide musicians or a solo trumpet player in Dorset, Hampshire, Somerset and Wiltshire but of course as professional musicians we are used to travelling much longer distances as well.