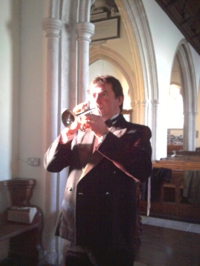 Weddings and Civil Ceremonies
Our wedding trumpet player and/or organ and other musical ensembles can play triumphant, uplifting music for the processional and recessional at your wedding, and more subdued, emotional pieces for the signing of the register. The trumpet player will happily play descants to the hymns or to boost the congregational singing.
The wedding trumpeter can also play a selection of suitable classical or not-so-classical pieces whilst your wedding guests arrive prior the start of the ceremony itself - all adding to the sense of occasion on your wedding day.
Many couples are now choosing to have their wedding as a civil ceremony in a stately home, country house or hotel suitably licensed for the special event. Our trumpet services for a civil ceremony are much the same as for a church wedding, but you will probably need our keyboard and trumpet duo to satisfy the arrangements to the full. If there is no piano available at the venue, our organist / pianist carries a professional-standard instrument for the job and can produce a top quality organ or piano sound for you coupled with the trumpet player for wedding services or during the drinks reception.
There are many such venues around the Dorset, Hampshire, Wiltshire and Somerset areas, including those listed on the right. If you have chosen such a venue for your civil ceremony trumpet player services can be provided to you subject to availability on the day.